Here's a video on "What are the top 5 business trends today (2021)".
If you are looking for business opportunities that are in the growing trend today, then this video is for you. You can capitalize on any of these business trends to grow your business. Watch it now…
Today i'm going to share with you the top five business trends in 2021. I hope this video will help you especially when you want to start up a new business so if you're entrepreneurs or a small business and you're looking for opportunities then this video is for you.
Here's the top 5 business trends today:
Business Trend #1 – Remote Working.
In 2020 because of the pandemic situation and now it has spread over into 2021 so a lot of companies are still practicing work from home so rework working is going to be the trend because even after the pandemic people are already used to it. They will save a lot of time without having to get stuck in the traffic jam or travel on the road. So, remote working is definitely going to be the trend. If you want to start a business, you may want to start something related to remote working.
If you are already doing remote working and you want to do business you can provide online training teaching people how to be more productive working from home. And, if you are selling products you can sell products that related to remote working like for example a webcam and other remote working or productivity tools like ipad, headphones, working table, etc that will help them to improve their work productivity when they work from home.
Business Trend #2 – Ecommerce
This second trend has been growing tremendously for the last few years especially in the Southeast Asia region. E-commerce is going to be a trend because right now people are trying to only go out when that's necessary so most of the time they will stay at home. Once people are used to e-commerce means that they buy online then they will like the convenience of buying online. Examples of buying online can be buying food online, buying groceries, buying anything online so these are e-commerce.
If you're looking at to build a new business you may want to look at e-commerce or if you already are a small business, you may also want to convert your business into an e-commerce business so that it can help grow your revenue.
Business Trend #3 – Reskilling
Reskilling means when a lot of people lost their job because the company may not need their skills anymore or they may not need to have so many people in that particular area or department. So when these people get retrenched, they may need to reskill and learn new skills so that they will be more marketable or more in demand in the job market.
If you're looking for a business opportunity and you have the right skills, let's say for example digital marketing skills which have high demand now, then you may want to create a training to teach more people how to bring their business online. Or, how to market their business online and this is a great opportunity for you right now.
Business Trend #4 – Automation
Automation includes AI like artificial intelligence or IOT internet of things. These are part of the automations. Now a lot of companies try to shrink their workforce because of the pandemic situation and meanwhile they are also looking at digitization.
They are trying to convert what human does by using computers or robots or artificial intelligence. That is why today there are chat bots. We have tried using this chat bot for our customer service. So instead of human reply, we are using ai artificial intelligence chatbot to help us reply to the customer service so that way we can actually save on hiring more people and we can lower the cost. Then we can pass that cost savings to our customers.
Automation is definitely going to grow tremendously in the next few years. If you are a technical guy you know how to do programming or artificial intelligence, this is one area that you may want to look at because this is a high growth area now. Besides software, if you are engineers self-drive cars are definitely going to be the next in-thing. So these are part of the automation as well.
Business Trend #5 – Online Education
Due to the pandemic, people will have to stay at home especially children. Now the teacher has started to learn how to use Zoom, Microsoft Team and Google Meet to teach the children. Not only for the children but also online training for corporates or for businesses people as well.
The online education area is going to experience a high growth because more and more people are used to online education or virtual training then they will start to adopt this online education style. Before that, people still preferred face-to-face but because of this situation it forces them to actually use these online meeting tools. And after they get used to it, people would love it because it's so convenient.
For example, if I want to learn something I can log in at my own sweet time to actually go through the training or learning. Then at a certain time, I can log in to talk to my instructor or my coaches to ask them questions. So, it's so convenient yeah and then I can have my coaches or my trainers from anywhere in the world. Let's say i want to learn certain skills and there's someone maybe in Europe or even Africa or China that i want to learn from, I can actually subscribe or sign up for their courses. This is so powerful.
On the other hand, if you have skills, you can teach to the whole world rather than your own local areas. I just recently taught people from 3 different countries – China, Philippines and Malaysia one shot and I don't even have to travel out of my home. It saves me a lot of time on traveling, waiting in airports and so on.
Now you can train 100 people or 1000 people at one time so the cost will be the same as well so that will bring the cost of education or online learning down then more people can afford to learn new things or new skills.
These are the top 5 business trends that i believe is going to experience a high growth and if you are a business owner or entrepreneur or someone who is looking for a business to start, these are your new business opportunities. So focus on these five areas that will help you grow your business.
If you like this article or video, do share this to your friends and loved ones who are looking for business opportunities to start their businesses.
Click here: AndrewCheah.com for FREE business resources.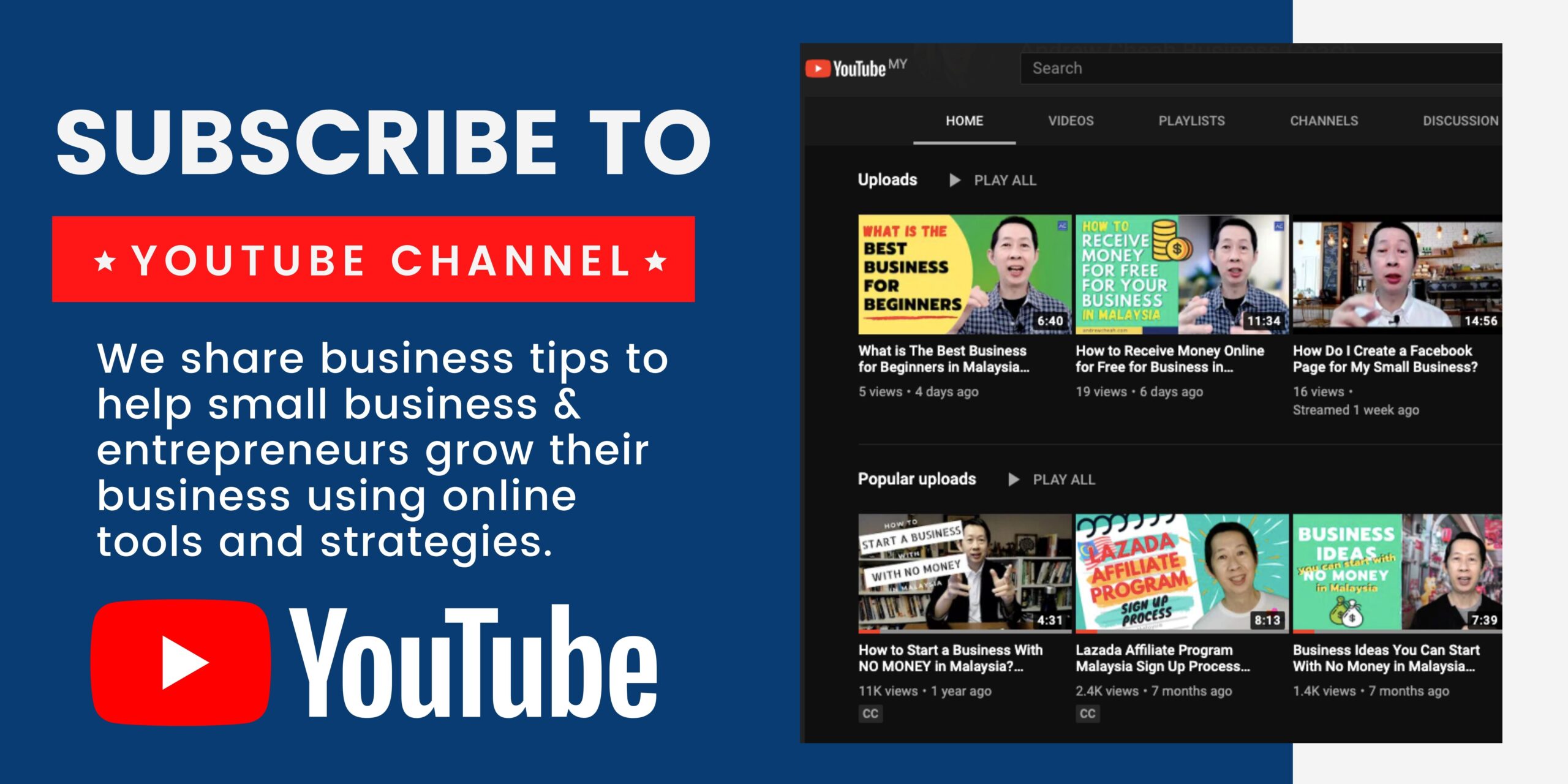 Subscribe to our Youtube Business Channel for more business tips that will help you grow your business using online tools and strategies. 👆 Just click on the banner above to subscribe 👆
Listen & Subscribe to Our Podcast